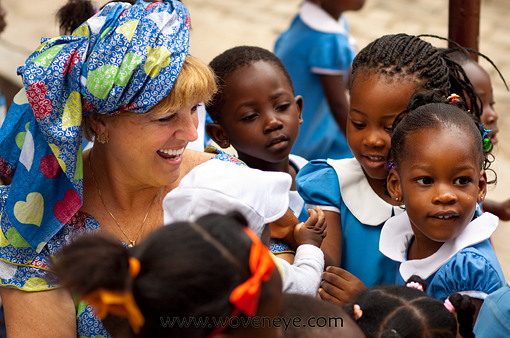 About Ghanaian Mother's Hope
Beginnings
On my first trip to Ghana in 2004, I was so in love with the children. I watched in awe as little girls hardly five years old, carried 8 month old babies on their backs for hours. I can barely carry my backback which is only 7% of my body weight and these girls were carrying a baby who equaled 50% or more of their body weight. My heart and my back ached for these precious children.
Asking around, I realized that most young girls are responsible for the care of their younger siblings. Their moms are busy working or cooking. These little girls stay at home and start school at an older age. Most are 9 or 10 before entering kindergarten. It is not surprising that many drop out of school by grade 3.
That trip changed my life and in turn it has changed the lives of hundreds of children. In 2005 with the help of Marjie Mack and Bruce Neuman, I founded Ghanaian Mothers' Hope, Inc. We invited the Mother's Union of St. Andrew's Anglican Church in Ghana to join us in finding a village to build a preschool.
 Foremost was the safety and health of these defenseless little ones. By providing a place to stay, a good meal, and beginning the education process, we could raise the survival rate for each child. This gives older children, who have been charged with the task of caring for younger siblings, the opportunity to attend primary school. Basic health and hygiene education is provided. Though tribal language is spoken at home, public schools are taught in English. We start teaching conversational English, hoping in the future to provide some adult language education as well. Our hope is to excite children about learning and educate the family on the benefits of continuing the education process.
Children have so much responsibility that they need a chance to just be children. The Westminster Rotary Club enjoyed providing and shipping the supplies to help the dads from Akramaman Village build a first-class playground for their children at the new preschool. For these dads, it was the first time they had ever seen a swing!
We are also addressing the health of children. Unhealthy children do not learn. We provide health and nutrition training for moms. We also provide expectant mothers with safe motherhood birthing kits. Since most moms give birth at home the kit gives each mom everything she needs for the delivery.
The past eleven years have been the hardest and most rewarding of my life. We have changed the lives of more than 300 children and 650 moms. This journey is just beginning and I hope you will join us to change lives forever empowering the future leaders of Africa.
GMHope Today
Ghanaian Mother's Hope funds the construction of preschools, playgrounds, and health centers that support whole communities. Each year volunteers visit our sites to empower mothers and children with the basic education and health knowledge needed to survive in a land where survival is a daily task.
Ghanaian Mothers' Hope is a grassroots organization that shares love and resources to ensure that the future leaders of Africa—the children—are able to attend school, lead healthy lives, and learn the pleasure of play in Ghana, West Africa. Ghanaian Mothers' Hope supports projects to create preschools as well as playgrounds and community centers and provides health and education programs.
Our program gives volunteers and supporters the opportunity to work directly with mothers and children in Ghana. In order to ensure that our programs are sustainable in the villages where they occur, we work with the Ministries of Education and Health. Our health education is guided by the Public Health Administration of Ghana. Our academic education programs are guided by the Anglican Diocese of Accra.
To help children in Ghanaian Villages who struggle with learning English, GMH has developed a Summer Reading Camp. This one week concentrated reading experience provides each child with five new books to practice their new reading skills. Using the US and Ghanaian volunteers, each child experiences a caring, encouraging environment where learning becomes a pleasure.
Our reading camps serve a dual purpose. While teaching children to read we can use the opportunity to train Ghanaian teachers. One day is set aside before each reading camp for teacher training. Public school teachers have very few resources and the training day provides both physical and intellectual resources as well as encouragement for teachers.
Clean water is essential for life. Finding water can be difficult, and, for many people in Africa, the water they can find is dirty, filled with parasites, and more. Our Water Mamas program teaches women the importance of using clean water for bathing, cooking, and washing clothes, as well as for drinking. For the lean cost of $25, we can provide one woman with an easy-to-use filter and two buckets—one for the dirty water they collect, the second for the clean water after filtration. Each woman trained in our program takes this equipment back to her own village and teaches three more women how to use the system. That $25 investment can provide four families with reliably clean water for 25 years.
We serve remote villages where it is arduous and costly to access medical professionals and clinics. There a little bit of training provides the means for women to implement effective preventative care, screenings, and the confidence to educate others.  We donor support, we are able to provide basic tools such as blood pressure cuffs and glucometers for diabetes testing. Training sessions photos on women health (breast and cervical screenings), children's health, diabetes, and screenings for cervical and breast cancer.